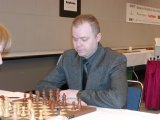 Igor Khmelnitsky, International chess master, award-winning and best-selling author, experienced chess coach.
Bio and more... webpage or 1-page summary (PDF)
What sets "Chess Exam" series apart from the rest of the chess books?
Written by an experienced chess coach and a very strong player, winner of numerous international tournaments, this series of books has revolutionized the approach to self-improvement in chess. Never before have the readers been able to assess their skills so comprehensively and accurately, identity strengths and weaknesses, find methods and tools to improve, all in one book. The readers of all levels love engaging style, quiz format and ability to work through the puzzles on-the-go, without using a chess board. Clear and detailed explanation allows novice players to grow their understanding and appreciation of the game, while enabling experienced players not only to check their answers, but also to compare their thought process.
Check "Q & A with the author" and quotes from the readers to learn more.
I sincerely thank you for taking the time to explore my site. I am confident that it can be an extremely valuable resource for your readers, viewers, and listeners. Please let me know if I can provide anything else!
Sincerely,
Igor Khmelnitsky
International Chess Master, Best-selling and award-winning author, experience coach.
Direct contact info can be found in the Chess Exam books or click here - contact information